As a co-founder of a healthcare marketing agency, we are constantly in the process of communication to "qualify" our clients as a voice of authority or expertise. This evolving process can be explicitly seen by the ever-changing and updating policies (here and here) in regards to healthcare advertising. If you are in this space and don't have a notification sent to when either of these URLs are updated you are potentially going to be caught by surprise.
These two pages only begin to scratch the surface on the moving target of policy control. A more recent addition to the healthcare policies was the section, "Speculative and experimental medical treatment." This was in direct reply to the unregulated use and marketing of stem cell and PRP therapy. There were rouge medical care providers misrepresenting and abusing the use of these therapies. Understandably a correction needed to be made. Generally, when a policy is announced there isn't an immediate hammer enforcing it. We often see several weeks or months lag until an account is flagged. Even with monitoring and making preventative changes, there is no way to completely prepare your online presence.
A small and seemingly harmless example was the word regenerative within a physician's bio. It was explaining the unique training and identifying the medical school department name. There was no reference to treatments offered or pushing any sort of unverified medical claim. That single word flagged a large ad account and stopped all ads running that weren't referencing that term or even pointing to that page. The multi-week process that ensued caused a measurable effect on the bottom line of the client. The question becomes, how does an authoritative voice become heard?
This isn't limited to ad accounts either. Recently and notably Google has struggled to adapt its search algorithms to identify "quality" medical content. Colleague and CEO of Five Blocks Sam Michelson says, "Google has figured out not only the kinds of questions people often ask but that people appreciate the format as an efficient way to find information quickly."
Another URL of theirs that you should be monitoring lists the sources Google has partnered with to highlight medical content.
The list isn't exhaustive or even that long. But it gives a trove of information on who is seen as the voice of authority.
We consider this list as patient zero. The closer we can align our clients to any of these sources the closer to an authority you become, simply.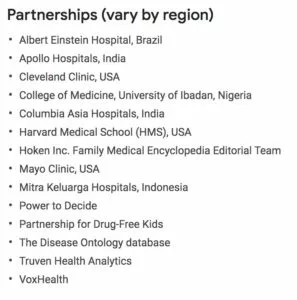 That sentence could spur endless amounts of content on how to achieve that positioning. There is no hack, workaround, or script to achieve this.
You need to be doing something in the physical world that is notable, peer-reviewed, and medically sound. Simply put, you need to have physical world expertise or authority before it can translate into a digital one.
There is no set checklist to represent the translation of physical expertise to digital. This is abundantly clear from the 168-page Google Quality Raters Guideline. This is meant to arm the thousands of people that manually review the "quality" of a search result. The two most relevant topics to healthcare are E.A.T. and YMYL.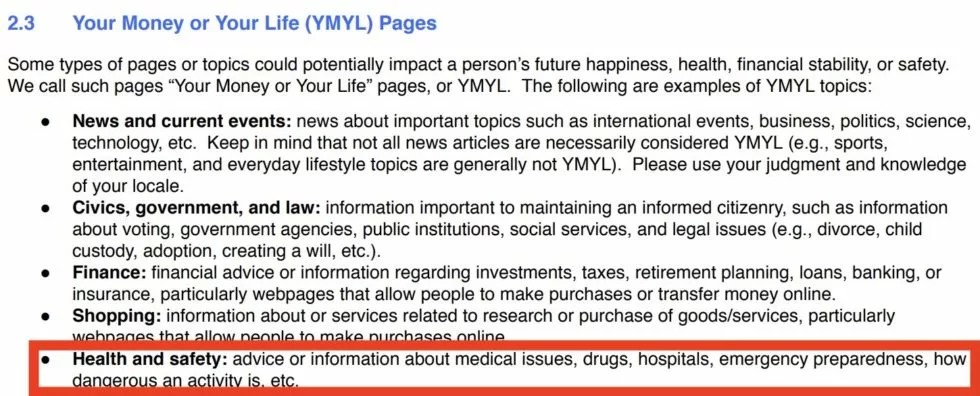 They represent Expertise, Authority, Trust, and Your Money Your Life. Google has segmented out search results that speak to anything health or financial related and put that at a higher standard.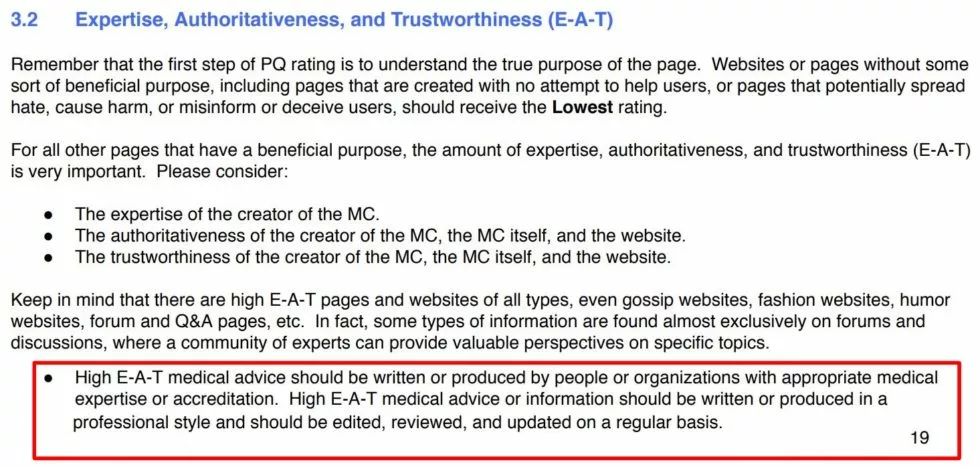 This makes complete sense. It is the undemocratization of the internet. All voices are not equal, especially when it comes to healthcare information. But again, how does a voice get to that higher standard? The recent Google HLTH keynote by David Feinberg gave some hints at potentially how google is tackling it from their side. Comments such as their awareness of doctors using youtube to do research and a "health" search tab make strong indications.
Would google pull out health-related searches into its own bucketed section? Like shopping, news, flights, etc, would "health" become the next thing to be carved out? Maybe. If it doesn't, we should be acting as if it is though.
Going back to the idea of patient zero websites. They are a great starting point to audit what and how they are representing themselves and their content. Past that there are some fantastic non-profits and outside parties that are attempting to define a minimum requirement to be producing health content. One that we have partnered with is the Health On the Net. They promote transparent and reliable health information online through a certification process.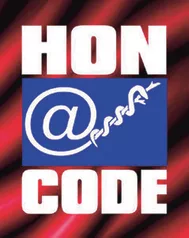 Even that process isn't completely exhaustive. Our healthcare audit team is constantly building out as close to an "objective" list of processes, factors, and indicators to what makes a voice be seen as an authority online. Just like the google quality raters guidelines, ours is constantly growing and will always have a partially subjective manual review aspect. Our audit team is lucky enough to work with some world-class doctors, researchers, and thought leaders in the healthcare space. It can be a struggle for them to have physical efforts that aren't reflecting online. That is where our team comes in to translate physical expertise into digital.
As with anyone in the digital space we are always thinking, are we all just appeasing the almighty Google? We certainly can't ignore them but we certainly don't have to be completely boxed in by them either. A recent presentation by Rand Fiskin, co-founder of Moz and SparkToro outlines the emphasis on brand value in 2020. There is no recording of the video at this point but outlined in a blog titled Google in 2020: From Everyone's Search Engine to Everyone's Competitor are the slides.
As Google gets itself directly into more verticals the importance of zero-click searches becomes more important. This is where a searcher gets the information they need simply from the search result and never clicks into a result. Rand highlights further into the slides, how information searches are crushing industries that relied on that user coming to their website to educate them further. This is already apparent in healthcare searches that have the knowledge panel and featured snippet pop up.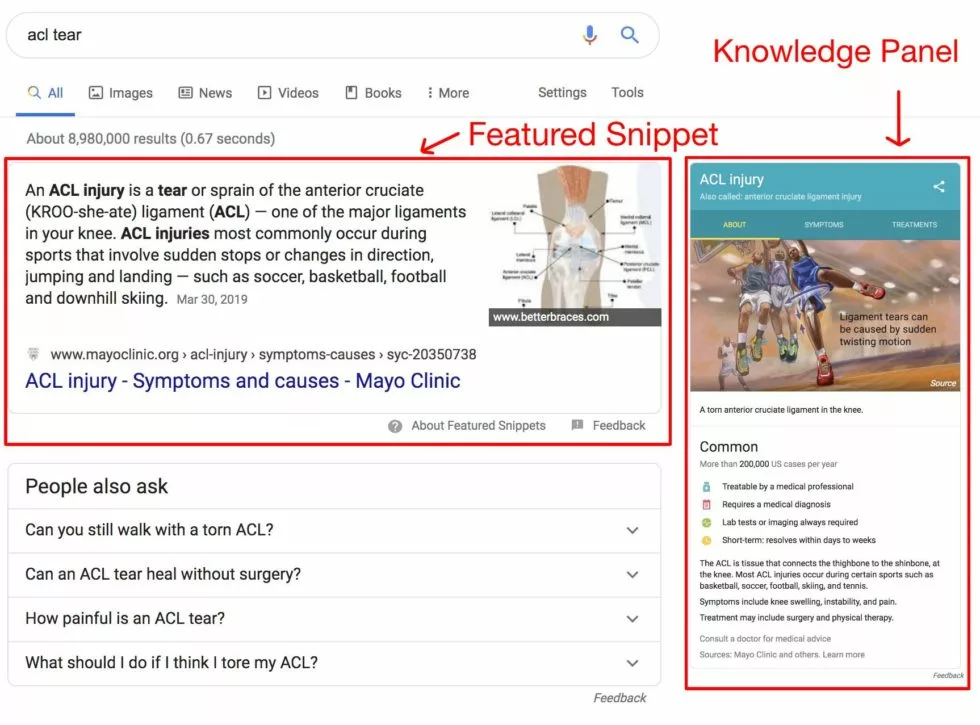 Where we are tasked, is to keep educating the public with all efforts, both digital and physical. Rand makes it clear that a search result comparison between something like "endometriosis treatment" and "endometriosis treatment <insert brand>" are drastically different. This may seem obvious but there is much less room for Google, Bing, or anyone to co-opt a search result when the brand is clearly identified. This distinction is at the heart of all healthcare efforts.
There is a much smaller pool of people who know you by your brand versus what you do or what you treat.
How do we associate your brand to that larger pool in an authoritative and expert manner?