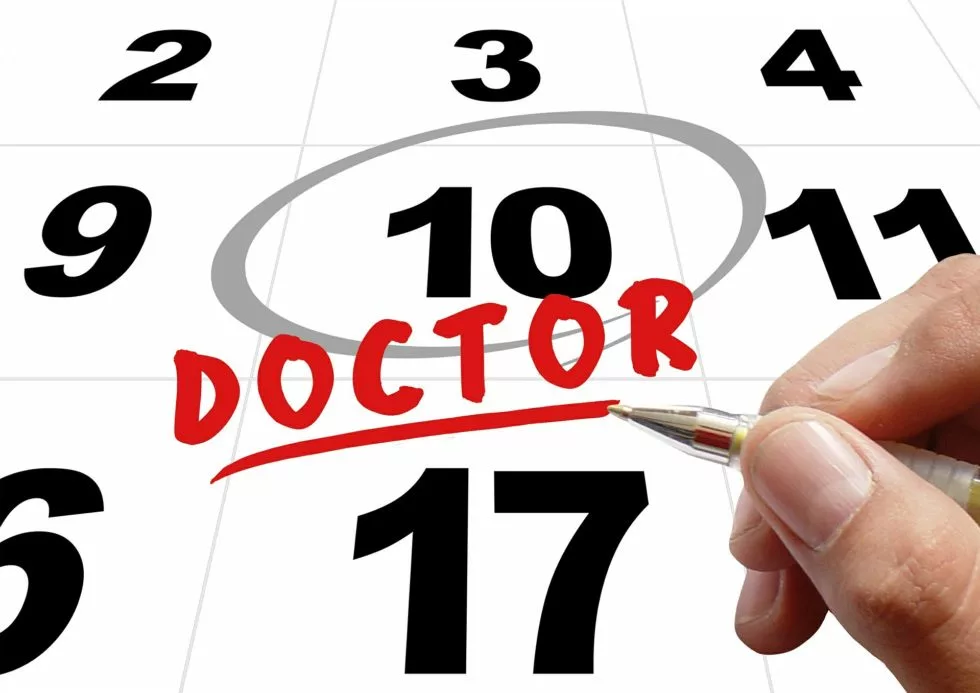 Google Will See You Now
In the online medical space, ZocDoc is clearly the gorilla in the room when it comes to medical appointment scheduling. Their market share is tremendous and they often dominate search results for doctors' names and specialty searches within a region. But Google has quietly taken a stab at integrating your appointment booking process right into their search results. Partnering with MyTime, Google will showcase a 'book an appointment' option embedded into its long-heralded Google business listings. The GMB listing is a high-value territory that is often fought over. Most recently the local search results have been chopped down from 7 listings to 3 listings. These results can be seen with specialty and location queries like "dentist midtown nyc".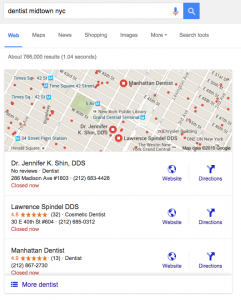 If you already have a dentist in mind and search for them by name you will more than likely get a different result. Instead of seeing the multipack of local listing you will see the individual business listing for that dentist. The normal content is still there like photos, business hours, reviews, etc. But nestled at the bottom is a section labeled "Book An Appointment". These are where being friends with google pays off.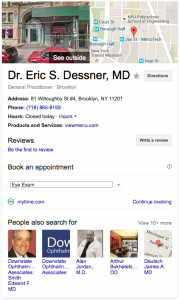 MyTime Medical Appointment Partnership With Google
MyTime has tapped into the contents of hundreds of thousands of google business listings and have embedded options to book any type of service or appointment. It is important to note that MyTime is not limited to the medical industry like ZocDoc. You can schedule appointments with anything from personal trainers to dog groomers to chiropractors. But we are going to focus on the health and wellness section of their service. Providers with a more clear cut or bundle prices are already seeing a positive return. Some of the most active specialties in the health and wellness section are dentists, acupuncturists, and chiropractors. These types of medical professionals are not the client base for ZocDoc and it doesn't seem like MyTime is timing to take away any of their clients anyway. Why I can say that is because they have the ability to sync your ZocDoc calendar with their own system. This is very attractive to the medical professionals currently on ZocDoc because all it does is give them another potential outlet for patients to discover you on. Additionally, MyTime also pulls review data from Yelp. So if you have already put time and effort into establishing your reputation on Yelp and use the booking system on ZocDoc you can simply benefit from both and port them over to MyTime.
Difference between MyTime and ZocDoc for doctors
Now it is important to understand the financial differences between all these platforms and see why they do not compete. ZocDocs' customer base has always been the doctors themselves. For a monthly fee, you can be placed on their directory with the opportunity to receive new patient bookings through them. Whereas MyTimes' customer base is both the consumer and the business owner. There is no fee for businesses to create an account on MyTime but there are numerous add on features that have varying monthly costs. These services range from reputation management, business listing syndication, and of course an online appointment scheduler if you are not using one. Their big difference in terms of the booking of the appointment itself is they take an upfront percentage for a new patient booking or purchase and a smaller residual percentage for any repeat visits. This provides for an interest cross section depending on what type of provider you are.
How to use MyTime and ZocDoc as an out of network doctor
For dentists, and chiropractors it can become an e-commerce solution to showcase your prices online and gain new patients even when your office is closed. For doctors, they have the option of offering a medical consultation where you can choose whatever price you want to charge for a new patient consultation. This is where some testing is in order. Since a consultation is not as directly tangible as an adjustment or teeth cleaning you may want to adjust your prices accordingly, or even potentially to free. For many of our clients that are out or network and more specifically surgeons the internal process of determining a patient's benefits is important. So it is better not to dissuade the potential patient with a high upfront consultation cost and get them to contact the office first. MyTime is still a fairly young company but with a very strong partnership. Their representation in the medical consultation option is still very low but they will be important to watch in the future because they are not replacing the likes of ZocDoc but becoming a tool to expand their footprint. Even if you are not receiving bookings immediately through the platform we find it still important to claim your profile and list the services that you offer. They currently only have one option, medical consultation, but you can add several custom options that suit your practice better. As you claim your profile and create custom options, at a minimum all that is doing it providing data in a direct pipeline back to google with who you are, and what you offer.
MyTime Booking Process for doctors
If your google business listing is shown and you have set up a MyTime account the dropdown underneath where it says 'book an appointment' will have all the options you provided.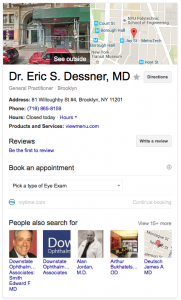 Once the patient chooses which type of appointment they would like they can click on the link below it where it says "continue booking". They will be lead to a new page that shows your available appointments on MyTime through whatever calendar system that you synced with them. This is where cross utilizing ZocDoc can be very useful. You still only manage your calendar in one location and patients can actually book open spots through MyTime not just request an appointment. It is very important to note how the booking process differs from ZocDoc. On MyTime they do not request or have an area to select your medical insurance. This is where we are testing to see the type of patient base doctors are receiving from MyTime. Depending on whether you are receiving cash based patients or insurance based patients, your prices should adjust accordingly.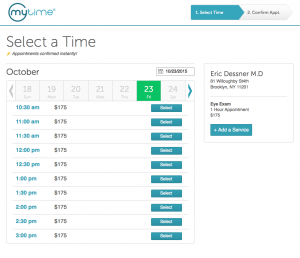 Once a time is selected the patient is brought to a confirmation page. If there is a price for your service or consultation payment is taken immediately. If you have your service as free the patient's appointment is confirmed.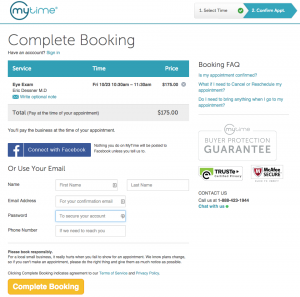 As an out of network doctor, this is where it is very important to have internal processes in place to contact this new patient. The insurance type should be checked immediately along with benefits. It is still unclear what type of patient can be attributed to the MyTime platform, but it is very clear that you can control another point of data about your practice that is directly connected to google.