Creating a YouTube channel with consistent content isn't just as easy as recording and uploading. From hiring your medical videographer, to  researching the video topic, to releasing it on your channel – there are data-driven steps which should be taken the entire way. Specifically, we'll be looking at the exact anatomy of a YouTube video and why it's vital for optimization & healthcare SEO.
First thought you may have is, "Why does YouTube Video matter?" Similar to Google, users go on YouTube to find the answers to their questions and it is the 2nd largest search engine behind Google. More recently, YouTube is now making it easier for users to find credible health-related information from authoritative sources. And yes, just like Google, users are going directly to YouTube searching for video content on various healthcare topics. All types of videos are being produced in the medical practice / healthcare space: informational condition videos, patient testimonial videos, and even detailed surgical video (just to name a few). Take for instance something we have produced with our client as specific as: "How to fix a nasal valve collapse." 
When writing a new content page on a website, specific keywords are added that will help lead users to the page and answer the questions they have. This is the same thought process we use when researching and uploading a YouTube video for our clients.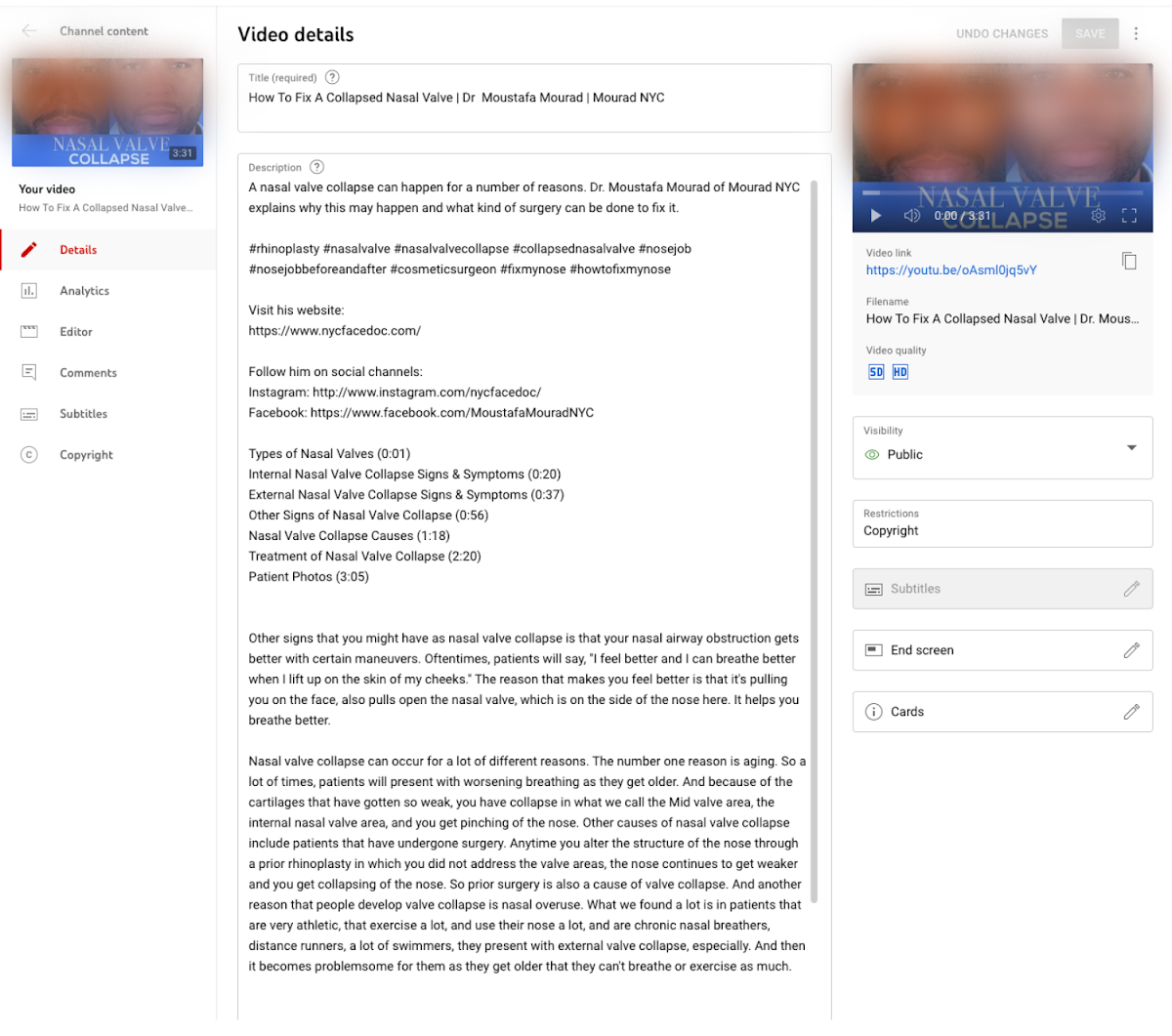 What do you need when posting a YouTube Video?
Relevant Title
Short Main Description
Relevant Keywords
Hashtags
Website & Social Links
Timestamps for Key Moments
Transcription of video
Relevant Title
The title of the YouTube video is important for two reasons. First, the title should be something that would draw the user's attention to it. If it's an informational video, it should already convey that the video contains the answer to the user's question. If it is featuring a patient testimonial, the title should invoke a little wonder in the user. See the image below as an example. Secondly, the title should also contain at least 1-2 relevant keywords.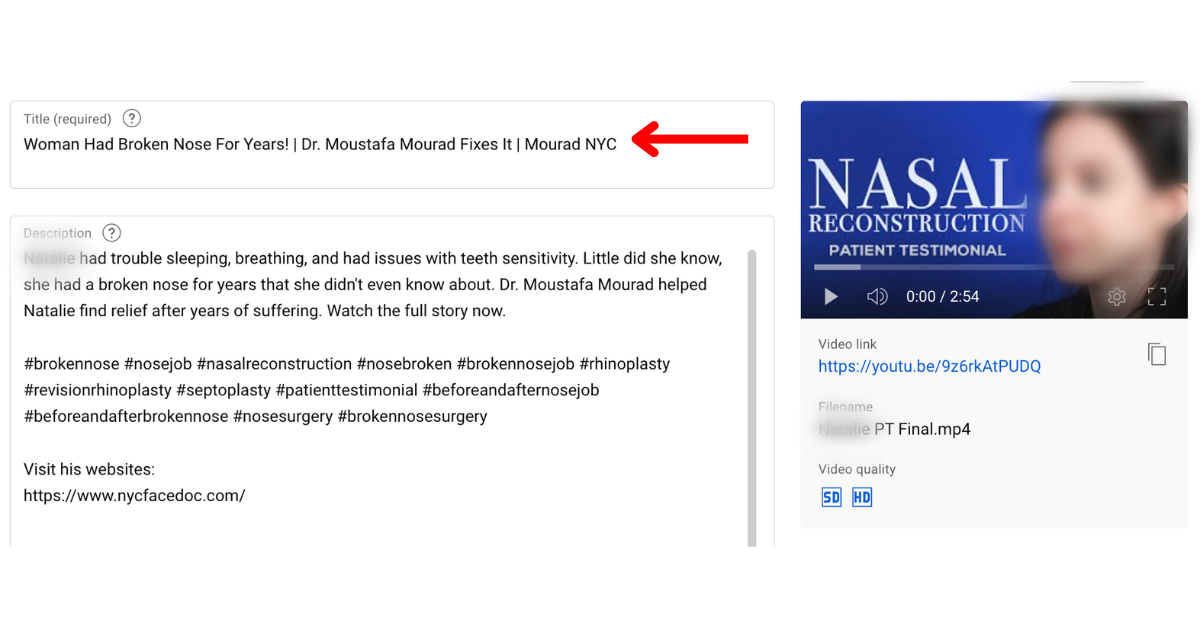 Short description
The first part of the overall description will contain a short description. This should only be about 2-3 sentences long conveying exactly what the video will be about or what the user may learn from watching the video.
Relevant Keywords
Relevant keywords can be used in the title, the short description, and within the transcription. To make sure relevant keywords are spoken in the video, these focus keywords are fed to the interviewee by the producer. Any word or keyword you include in the description can help you boost your video's rankings in YouTube search (and Suggested Videos). Relevant keywords can also be repeated at least 2-3 times within the description.
Hashtags
Like the Instagram algorithm, adding hashtags in video descriptions will help make the video more visible to the users. Hashtags are also another way to categorize your videos on your channel – similar to how playlists work. These hashtags should also be relevant to the content that is in the video and will help your videos rank higher on YouTube search. Hashtags can be added to the video descriptions or the title. Adding them to the video description is always best as you can add many more than in the title.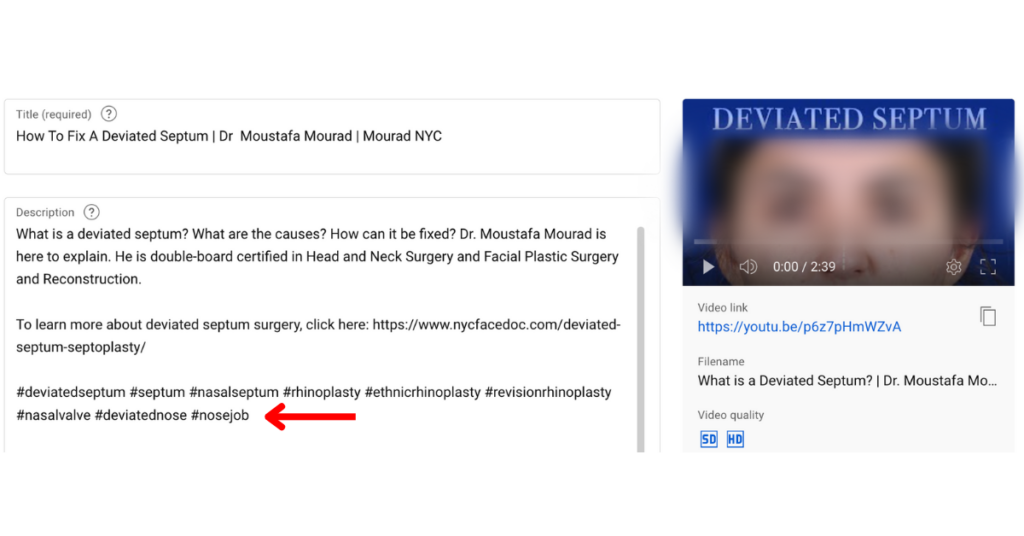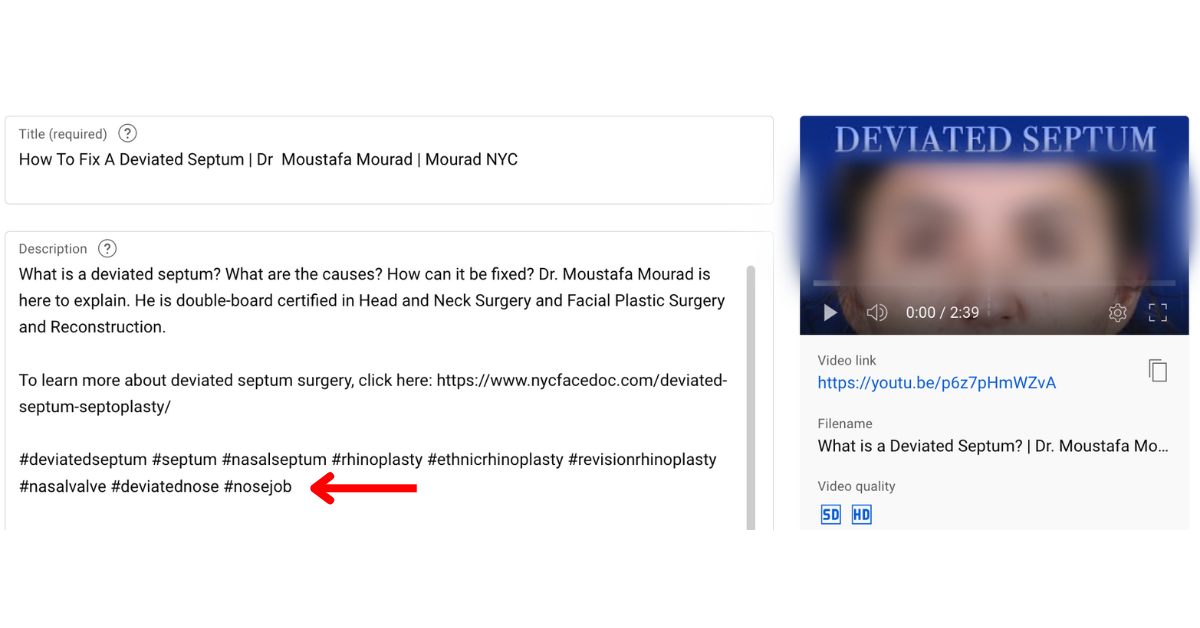 Website & Social Links
If you are a brand or company and are trying to promote your products/services, you want to make sure you have relevant links to your website and social media. For example, a plastic surgeon creates a video on how to fix a deviated septum. The main metric when creating video content is brand awareness but a byproduct of it can also be conversions. You can see this referral data in Google Analytics. Having website links in the description will allow simplicity for the user if they want to learn more about the doctor or service. Social links can help boost their following there as well and it's just another way to keep them in your ecosystem.
Timestamps for Key Moments
Adding timestamps to your videos will help your users find the exact answer to a question that they have and find even faster! These timestamps create what YouTube calls "Key Moments' within the video. For example, if a user just wants to know what the treatment is for a nasal valve collapse, they can click on the key moment and get to that part of the video sooner. These key moments can be added manually but they can also be auto-populated. Best practice would be to add manually as they do not always auto-populate the best moments. You will see in the image below, key moments have been added manually.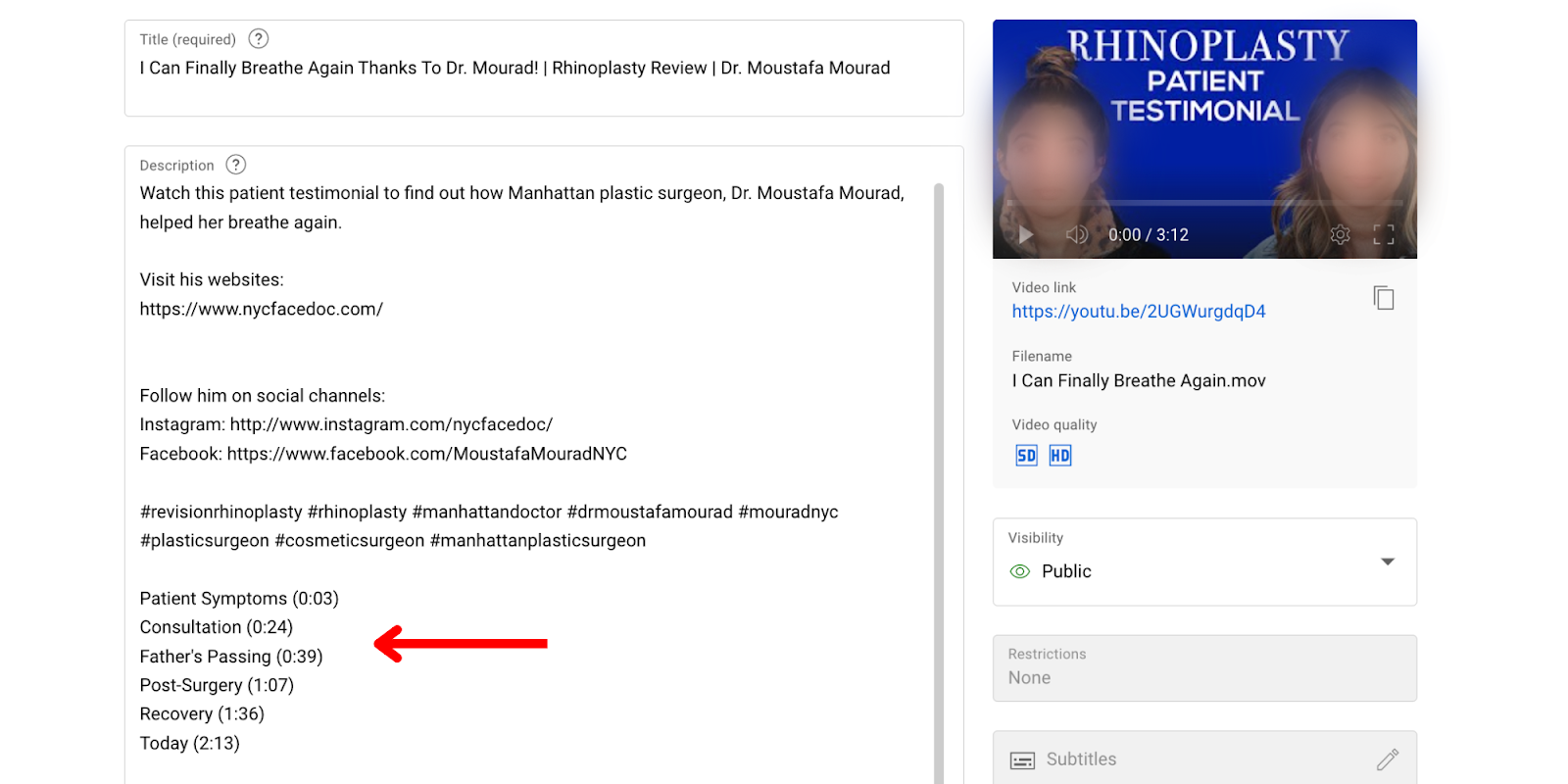 Here is how they look on YouTube. They are shown at the bottom of your description: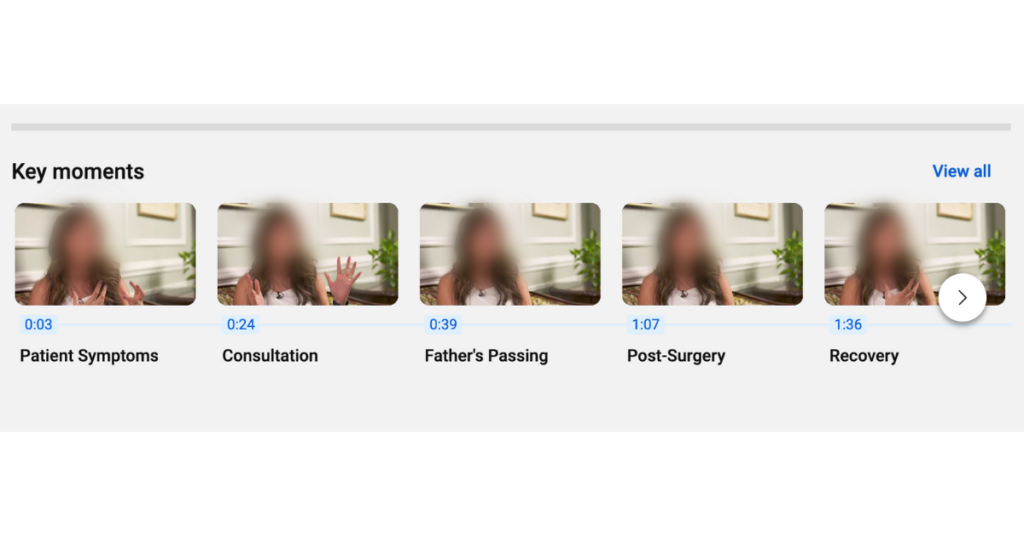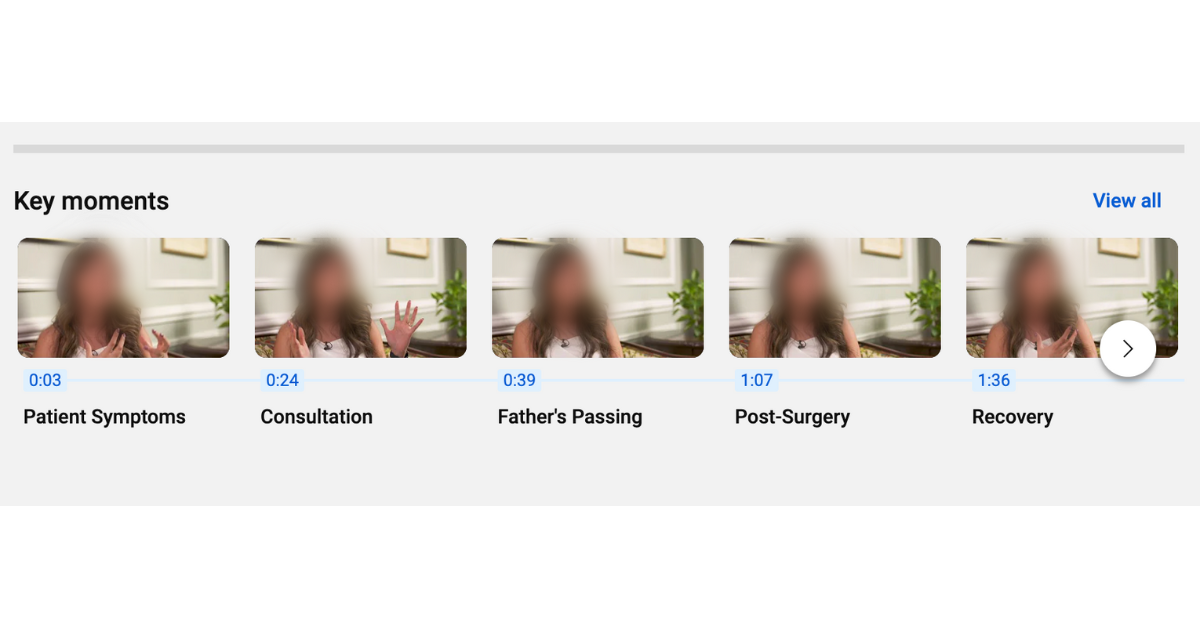 And they also show in a Google search: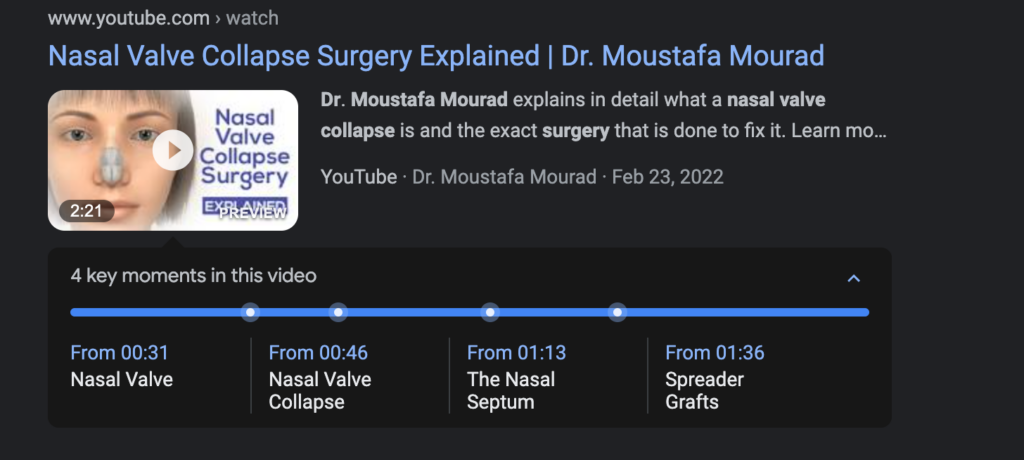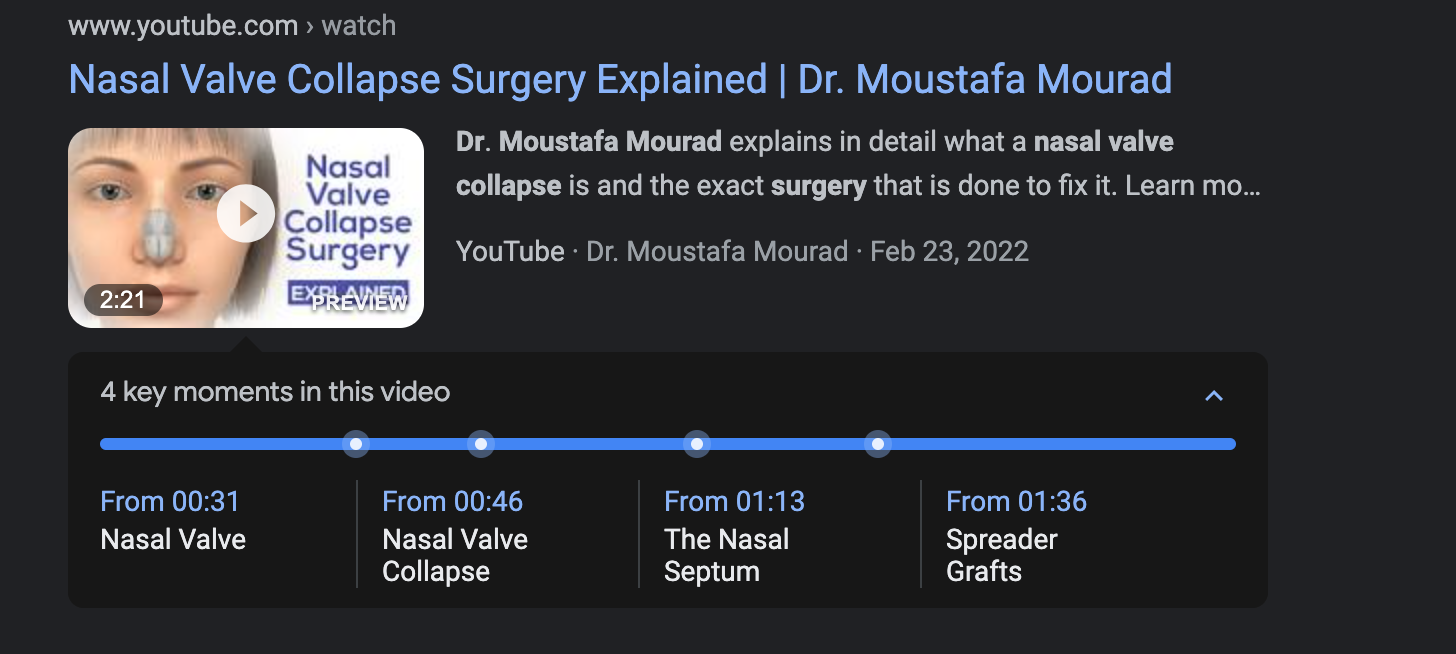 Transcription of Video:
Including the transcription of the video is important for many reasons. One easy win here is having more relevant keywords in your description. This will make the video easier to search for and boosts its YouTube SEO performance. This can also optimize for SEO within a Google search as well. The video will start indexing which means it can appear in a Google search if the user is searching for that particular content. Transcribing videos also increases accessibility for users. This also creates a better user experience. Everyone digests information differently so it's great to have options for users – some may prefer to watch the video and some may prefer reading about the contents of the video.