Onboarding new clients in the healthcare digital marketing industry involves managing different moving parts. Having a process to help transition the client from the point of sale into operations will help move timelines along seamlessly while also providing transparency to all parties involved. We'll walk through how to onboard for medical website design and development. It is one of the more complex projects to onboard for but with communication, goals and a solid process it can be less confusing and painful for both agency and client.
Goals Of Onboarding 
There are a few fundamental focus points that should be emphasized in each onboard for digital marketing in the healthcare world to help maintain a smooth and timely transition. 
Align Sales With Operations
Review internally to make sure that sales notes and itemizations are translated to the Operations and Development teams. It's important to ensure that all services and goals are communicated effectively to understand the scope of digital marketing work that is being done.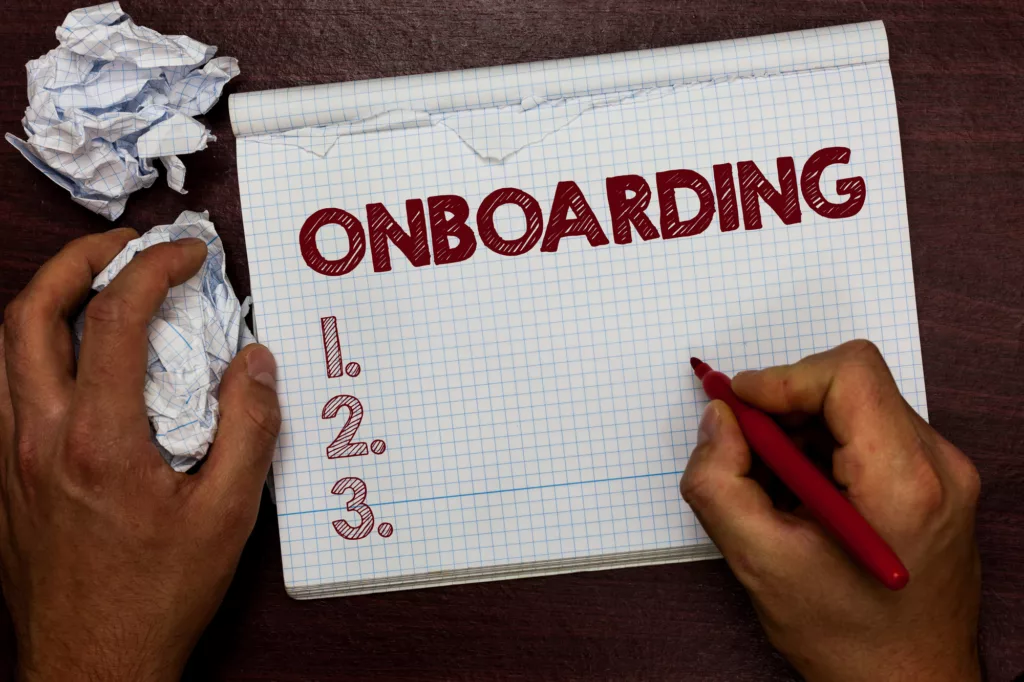 Communicate Expectations And Timelines 
Once services and goals are understood – meet internally with all departments to make sure that different teams involved (Sales, Operations, Development, etc) are clear and accommodating of the timelines in place. These will act as benchmarks throughout the onboard process to ensure a smooth transition for both your team and the client.
Once Onboarding and Development timelines are in place make sure to communicate them with the client so they know what to expect moving forward.
Gathering 'Source of Truth' Data 
Collect your client's data that currently exists. Information including hours, addresses, phone numbers, and procedures and conditions treated are important to know in order to make that information uniform across the web.
Find our Data Onboard Checklist here. This checklist serves as a central place to collect and optimize data for when this information gets translated onto the new website. Having this collected before the project goes to Development will allow for a smooth handoff of information pertaining to the practice and/or doctor you are onboarding.
Identify & Fill Gaps In Content And Data
Review the current content and see where improvements can be made based on client input, search data, and Medical Schema Guidelines. This is often the largest area of improvement when starting with a client. Healthcare digital marketing efforts often don't speak the language of the potential patients they are trying to inform.
Bottom line: If there isn't enough relevant content on the website speaking to both potential patients and the search engines then it won't appear in search results.

It's important when onboarding a medical web design client to talk through organization goals and which conditions / symptoms / treatments they want to be found and known for. Once the gaps are identified then a marketing strategy is developed based on priority and site launch timelines.
It's pivotal that search engines understand the content on the website as it will help serve it to relevant potential patients on the web. Following the Medical Schema Guidelines will help search engines like Google identify what the content is speaking to so you are showing up in relevant searches.
Medical schema is so important to us, our HealthAuthority™ CMS has medical schema built into it, right out of the box. Each and every website development project we complete is filled with language only search engines can understand to help your organization get found online.
Gather Operational (Client) Information
Coordinate with your client on which Procedures and Conditions they are looking to target and promote as well as any associations that can be made within the data. Understanding the areas your client's practice is looking to grow into as well as where they currently stand will help you create a roadmap to success as well as act as a starting point for optimizing and creating content.
You'll want to gather operational data on the client side as well in order for the digital marketing efforts to be successful. Below is a list of questions that are useful to have answered before launching your efforts:
Which contact should receive the appointment emails that are submitted through the website?
How soon is your team able to reply to the appointment emails?
Do you track inbound patient interactions from first touch to completed appointment? If so – do you do this by phone calls, emails, texts, etc.?
Is there a current system to follow up on patients who haven't made an appointment?
Having these items in place and answered will help your client to be prepared for the growth that the digital marketing efforts will bring.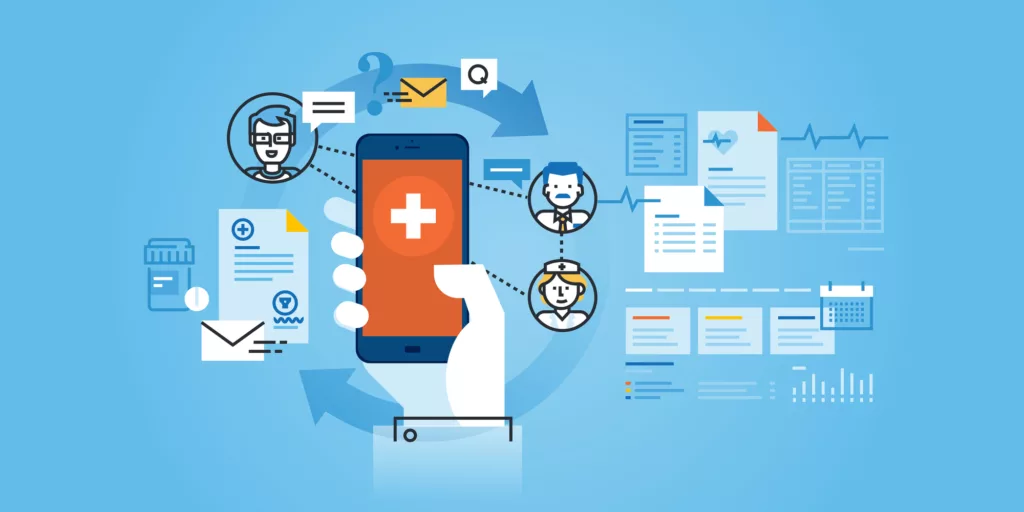 Smooth Transition Of Data To Development
Once all of the data is collected and expectations with the client are in place the web design and development team can begin building out and optimizing this information.
Onboarding Steps in Digital Marketing For Healthcare 
Create Internal Assets 
Make sure your new client has a presence in your internal platforms. Create a client drive to place documents and information pertaining to the client to keep everything accessible to the team and in one place. This can range from content, photos/videos, data collection, meeting notes, etc.
Having a 'Project' created in your project management software will help you and your team stay in the loop with project timelines and updates. Rather it be pertaining to Onboarding, Development, Launch and Post-Launch, Social or Paid Search – it's important to have a central place for all marketing projects for each healthcare client. Always make updates to any information or timelines within this Project as necessary to ensure that the information is clear for everyone.
This is another area we often find a large gap in opportunity loss. We like to frame the question, "What are you doing in the real world that positions you as an authority?" Oftentimes the most valuable indications of your healthcare authority are there but just haven't been translated into the digital world. Our HealthAuthorityCMS acts as an audit tool to gather efforts such as research, publications, presentations, authorship and more to represent and connect these assets online.
Internal Team Meetings
Over-communicate with the different teams involved in the project so everyone understands the services, marketing goals and timelines for the client. Weekly internal check-ins with involved team members will allow everyone to provide updates on the project as well as ask questions. You can use this time to discuss updates and adjustments for moving forward.
Research & Review Client Data
Collect the data needed to create uniform information across all platforms for the client. Google My Business listings, platforms like HealthGrades, Vitals and WebMD and Yelp should all portray the same information about the healthcare practice you are working with.
You'll also want to know which Doctors treat which Procedures and Conditions and which locations they serve at. This will help fill any gaps for new patients that are actively looking for care.
Gain Access To Website and Digital Marketing Platforms (If Existing) 
Often times clients already have a website for their organization. So, before the Launch / Kickoff Meeting it's good to get access to things like Hosting, Domain, Google Analytics, Google Tag Manager and the website. It is pivotal to get access to and/or connect these to the site prior to launch to uncover any technical issues prior to launching the project. It will help prevent any delays once the project is in development . These platforms help contribute to successful marketing campaigns as they provide the necessary marketing and operational data that is being generated from the front end of the website.
Client Launch/Kickoff Meeting
Once the fundamental groundwork is in place from the initial onboarding steps – create a document that provides a summary of all the information pertaining to scope of work, timelines, next steps and contact information. This is a great place to also include internal processes and introductions. From here you can get a call scheduled to have a data review and design process digest with the client to keep timelines moving forward.
Be sure to invite all stakeholders to the meeting. It will align expectations, milestones, and timelines for everyone involved. From your internal team, be sure to include the sales team member who's been interacting with the client for hand-off and any team leaders for each of the services you're onboarding for. In the case of medical web design and development, we make sure to include the following, at a minimum: Sales, Project Manager, Graphic Designer / Web Designer, Web Developer.
The Onboarding Presentation should be sent to the client after the call takes place. This outline will be important for the client to refer back to throughout onboarding and development as well as post-launch of the website.
Pass Information To Development Team 
Once the operational information is gathered and confirmed by the client – the project can then shift to web design and development where the focus will be on implementing the new technology while also establishing a design process and theme for the website. If your client already has a brand guide in place – you'll want access to that to make sure you are building out their website in accordance to what already exists. If this is a client that you are building a new website for or doesn't currently have an existing brand guide – you may need to create that to make sure that all brand elements are the same.
Summary 
In summary – onboarding new clients in the digital marketing sphere of healthcare requires a lot of communication, data collection as well as implementation. Having a process around onboarding will ensure a successful launch because it will help internal and external teams stay aligned and organized.
If this is something you or your company needs help with, book a consultation with Tidal Health Group to learn more about how we can assist!