Introduction to Local Healthcare SEO
In the past, local search engine optimization (SEO) efforts for doctors and healthcare professionals have been distinctly different from more general SEO efforts. This still holds true even as the fields have become more intertwined over time. While all of your SEO steps should be incorporated within a broader strategy, there are still distinct steps to take when you are a business with a physical (local) presence. You can learn more about a more holistic healthcare SEO approach here (link), but for the purposes of this article we'll be digging deeper into the specifics of local healthcare SEO.
Local SEO Tracking
Our team looks at tracking local healthcare SEO efforts in two ways; on-site and off-site.
On-site is the most straightforward, with local SEO success often being framed around the organic growth of your location pages. Whether you are a single- or multiple-location healthcare brand, it's important to have a dedicated URL for each physical location you have. We recommend creating that URL under a "locations" folder as well.
youdomain.com/locations/123-Main-Street
This provides a clear structural taxonomy to understand what is housed under that 'locations' folder. It also provides a static URL to link to from local profiles (ie – Google Business Profile) and an easy segmentation to track the traffic going to all pages under the /locations/ taxonomy.
In tools like Google Search Console, you can quickly segment traffic going just to that folder of URLs with a query filter like this.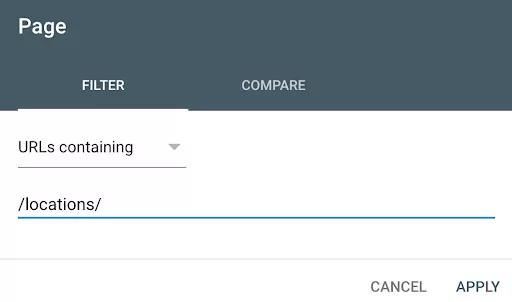 This allows you to see only specific queries that are causing those URLs to show up in searches, as well as all the URLs that are being indexed under that folder structure. Traffic going to this segment of pages can give you some interesting datasets to analyze. A good place to start is by separating out queries that include or exclude your brand name.
While leaving in the page filter you can also apply a custom regex filter to include or exclude queries with your brand name in them.

It may take a few tries to capture all brand names or brand variations but you should get to the point of having a regex expression that looks something like this:
Brand|brand2|brand3|brand4
The | expression functions as an OR statement where you can decide to include or exclude all of those queries. If you are looking to exclude brand-related keywords, your query results should end up looking something like this, where the keywords being reported are from users that didn't search for your brand specifically.

Using the same regex expression, you can also search for keywords which include your brand. This can be equally helpful for a variety of reasons, such as identifying brand awareness or brand lift while running campaigns that are focused on these goals.
Offsite local medical SEO efforts are more fragmented and complex to track. It takes a look at traffic or events involving digital footprints beyond the confines of your own website. This can include places like local profiles, (Google, Yelp, Bing, etc), social media or chat forums, and others. We are going to primarily focus on local profiles and Google Business Profiles.
Google Business Profile/Google My Business
Google Business Profiles, formally Google My Business, are the quickest and most effective local healthcare SEO step you can take. Setting up, claiming, and optimizing your profile is a simple and straightforward. We will discuss some important best practices further down, but it is important to understand that these local profiles are a Google property. That means your profile's given placement and position in a search result are incomparable to any other local listing.
Taking advantage of all of your Google Business Profile's features should constantly be at the forefront of your local medical SEO efforts. The three keys to focus on after claiming and building your profile are quality, quantity, and recency. Get great reviews, get a lot of great reviews, and continue to get a lot of great reviews over time. It's very common for us to see a short-lived push to gather reviews during a brief period of time before the profile just ends up sitting dormant for months or years.
Google Posts
Google posts are a more recent feature of Google Business Profiles. Google is giving you an outlet to post and promote time- or event-sensitive information directly to your local profile. Simply put, you should be taking advantage of any additional real estate Google is providing to you in a search result. Instead of your profile primarily being your static business data, Google posts allow you to showcase more detailed and dynamic content.
Keyword Research
Foundational keyword research is highly important and should be informing all digital marketing efforts. A segment of that research can be categorized as local SEO efforts. Understanding the "high intent" keywords that drive people looking to take a local action can inform the content on your location pages, the description on your business profiles, and more.
If you already have a rich dataset of your own on a platform such as Google Search Console, that is a great place to start. While it doesn't show you all possible data, it does give you insight into local search habits from which you can extrapolate. From the screenshot in the local SEO tracking section, you will start to see 'common' terms that trigger a local search result. Intuitively, terms like "near me" and "best" are on that list but you will also be able to start compiling a list of which terms are the most valuable. The most variety will come in geographic variations that are tied to your physical location.
Research will start to paint a picture of how "local" your efforts need to be. Following our previous example you can start to paint a local SEO picture. Each time you identify a different geographic intent ("chicago" vs "lincoln park") it allows you to determine which are relevant and how different, or similar, the searches are.
NAP / Data Consistency
NAP stands for name, address, phone number. While the acronym doesn't exhaust all the data needed for a local healthcare SEO listing, the idea is to ensure the important static information about your business is correct and uniform across the board.
Our HealthAuthorityCMS (link) establishes a larger baseline of data that acts as a central source of truth for your information online. However, the concept can be managed with or without such an automated process. It's important to decide on a uniform naming convention for your brand, providers, address structure, and public contact phone numbers.
Database Partnerships / Appointments
The management of the NAP ecosystem has long been dominated by several players such as Yext, Moz Local, and more industry specific companies like Doctor.com. It's become very difficult to manually manage all these listings separately, so we do recommend using an automated tool to manage the 'common' listings. We will go into more detail later on how to think about the uncommon listings.
A more recent development in the database partnerships within the local SEO world has been the ongoing land grab effort by various platforms to integrate appointment scheduling. Generally this can be seen with the "Bookings" tab in the backend of Google Business Profiles.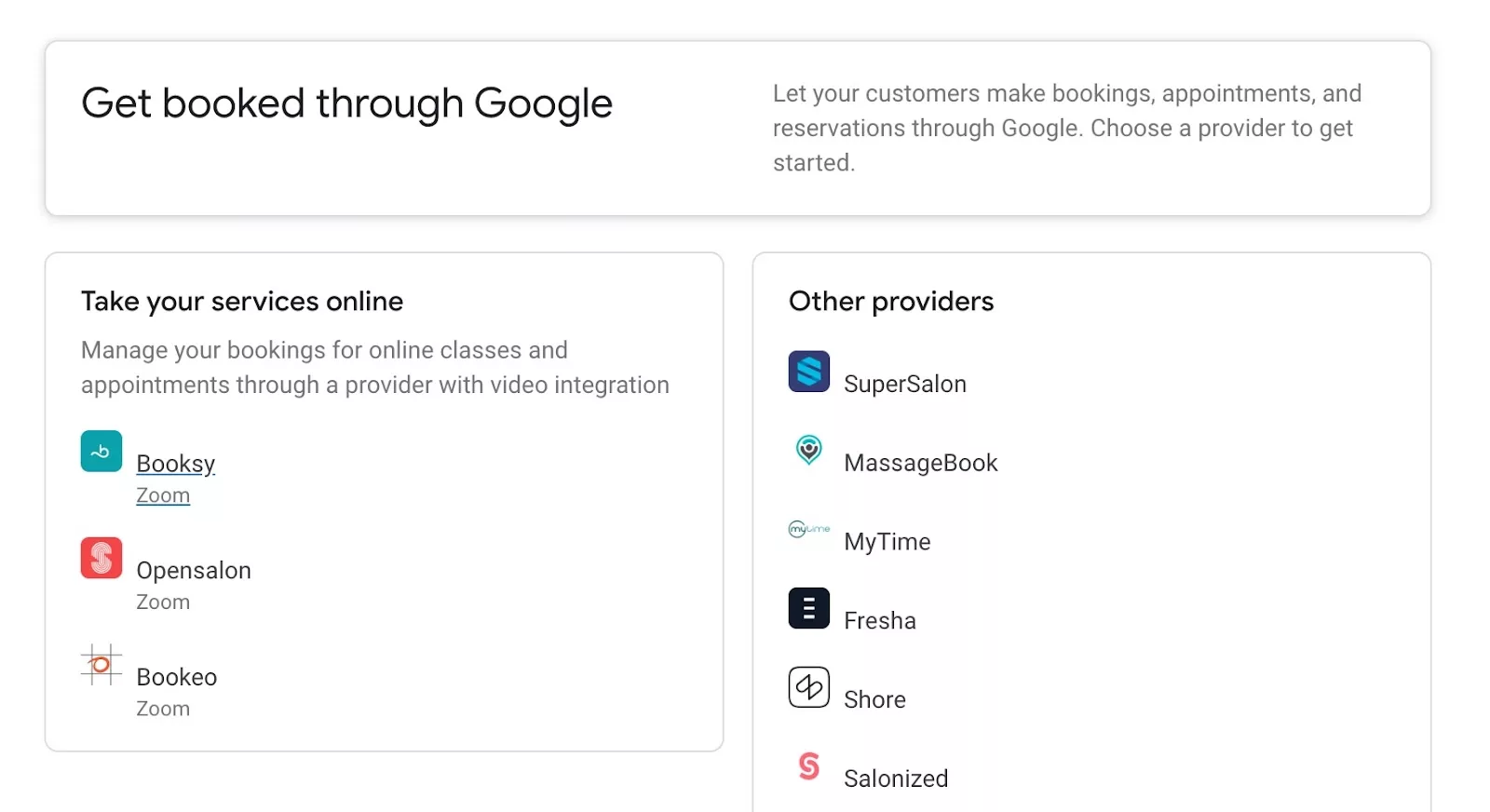 The more specific and less obvious partnerships that are specifically affecting local healthcare SEO efforts are behind the scenes connections. If you are a ZocDoc customer, there is a sneaky control feature in your ZocDoc account that will integrate your ZocDoc profile directly into your Google Business Profile. Within your ZocDoc provider profile there is a section labeled 'Partner Syndication Feeds' that could be toggled on without you knowing and actively promoting your patients into their platform through other online channels.

Local Landing Pages
As previously mentioned, it is important to have a static URL to be able to point to from local profiles. Using your previous keyword research as well you can start to plug in the content that is most relevant to that individual location or provider.
Multi Location
There is a clear structured dataset needed for each location page, which we will be outlining further in the next section. Here we will tackle some of the unstructured data on that page. This refers to content or description sections. Carrying the previous example forward, you can start to think about the physical presence of your business. We have seen user geographical queries for Chicago and Lincoln Park. Whether or not you have a physical location in each community, or one that services both, will direct how you write about the areas that this location services.
Multi Provider
We can think about provider pages using the same lens. We saw variations of descriptions using terms like podiatrist, foot doctor, foot surgeon, foot and ankle specialist, and ankle specialist. Understanding which variations are appropriate to each 'entity' of a provider will allow you to assign appropriate keywords to their profile.
Schema Markup
Schema is a third party structured markup language that allows search engines to organize data. Google is very clear on which forms of schema they recognize. It's important to utilize the localbusiness type schema that is covered in the structured NAP section. We take schema further because there is a whole section dedicated to healthcare schema.
While the localbusiness schema is all included in the medicalclinic schema, there are a lot more categories of information that could be collected. Even if you don't have your developers code in the schema language, you can use the additional categories as a content guide.
While these things are not identified in the Google recognized local business schema, it can be very helpful to let potential customers know if you are accepting new patients, which insurance plans you are in network with, or which services are available at each location.
Leverage Real World Local Relationships
Often when strategy sessions about growing local healthcare SEO efforts happen, it's through a digital or marketing lens first. Questions or comments like "where should we get our practice listed?" or "do we need to audit our business listings?" are discussed.
We like to shift the conversation to start with what differentiates our clients in the real world and how this can be effectively translated into the digital world. Questions like "what professional associations are you active in?" or "what local communities, groups, or organizations are you involved with?" should lead the conversation.
Local Link Building
As you start to think more about the physical presence that identifies you locally there are some universal healthcare domains that can help find a starting point.
Some of these channels have explicit locations to audit your listings and some are starting points to discover non-traditional places to help improve your local SEO footprint.
Professional Healthcare Industry:
Board Certifications
Medical Association Memberships
MedlinePlus.gov
SAMHSA.gov
Insurance search
Local Reviews
All the efforts written about up to this point are tactics. Tactics can help you hone your approach and reach more people, but can never be a replacement for providing amazing customer service and getting your patients to talk about it. It's important to talk to your patients on their level as much as possible. When you recognize the actual words and language your patients use, it only helps connect and identify with future patients even more. The recognition that 'chronic lower back pain' is light years away from 'sacrocoxalgia' or 'lumbago' is half the battle.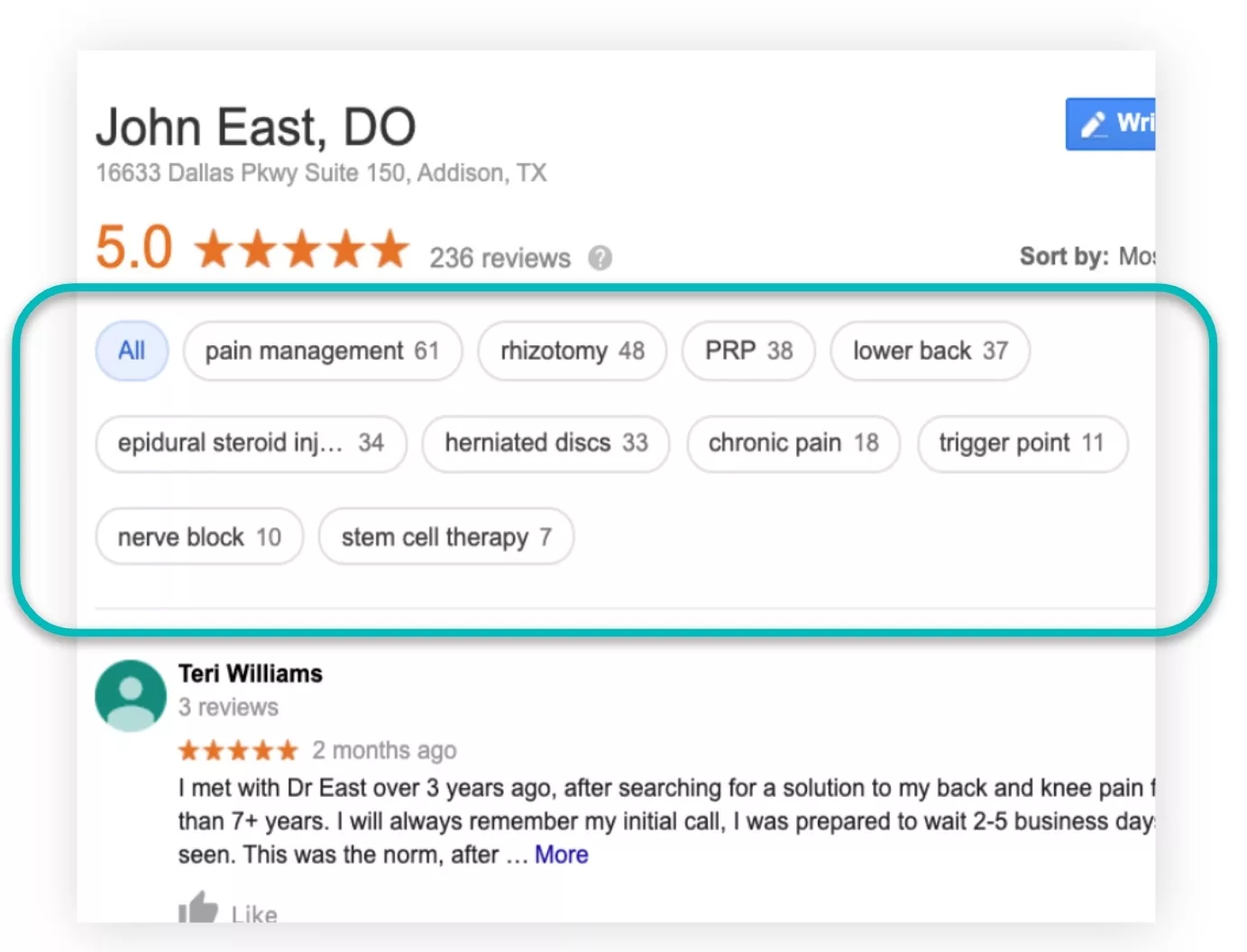 Summary
Overall local healthcare SEO efforts boil down to providing great service and speaking your customers language. If you do nothing else, you will succeed on a local level.