The conversation always start the same, 'I don't like Yelp' or 'Those bad reviews are fake anyway'.
Seemingly every doctor or medical practitioner we speak with has the same lament about the perception of their online persona. To them the idea of Medical Reputation Management isn't foreign but more so restricted to the confines of their office.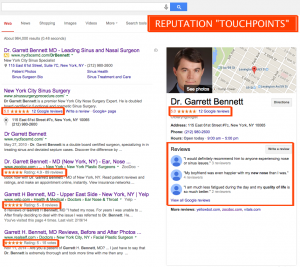 Medical Marketing Perspective
Whether based on reality, slightly construed or completely false there is an unbiased personal perspective an online review gives about you and your practice. With hundreds of millions of medical based queries typed into Search Engines each year there are bound to be a few that cross paths with you and your specialty. Within those searches Google has stated that over 70 million of those medical based queries are branded to either doctors or practice names.
Medical Reputation Search Results
When your name or practice are searched for, this is a potential patient already showing intent towards you. It is key to manage the highest amount of market share within those search results. The algorithms are constantly evolving but there can be 6+ "digital touchpoints" where your online medical reputation is presented to those looking for you and your practice. Besides having correct business information, which you hopefully have, these results all generally have a review and rating feature built into them as well. In the nano-second that search results populate a potential patient is given a snapshot of you.
Where are the eyes drawn to first? Starred and numbered ratings system that encompass 90% of the results shown. Which ratings will be clicked on first? Any poor or negative ones. Over 2/3's of searches scour through the moderate and low ratings to get an understand of the potential downside to visiting you. Are you notoriously late in seeing patients? Have you cancelled appointments last minute? These may be overlooked if you are specialized and an expert in your field. Are there statements towards medical claims, negligence, malpractice and more? All these statements may be unsubstantiated but they are still posing a negative perspective regardless of there truth.
Medical Marketing Touchpoints
These are a great starting point to help manage your digital reputation. Building the profiles out completely, fostering real and positive reviews, and monitoring the reputation purported by them is key.
1. Your Personal Website – Connected to Google Reviews
2. Your Business Listing – In Google, Bing and Major Search Engines
3. ZocDoc – Only if you are using their service
5. LinkedIn Personal and Company Profile
6. HealthGrades Doctor Profile
You care about your patients. You are a leading doctor. Now showcase it online. At Tidal Wave Marketing, Medical Practice Specialist, we care about connecting patients with the highest quality medical care.